Regular price
Sale price
€42,95
Unit price
per
Sale
Sold out
Out of stock
Highlights

adheres to almost all surfaces
roll up and take with you
writable on both sides
dry wipeable
20 slides per roll
Produktbeschreibung

Whiteboard foils in A1 format for office, home, decoration

The electrostatic self-adhesive sticky notes and whiteboards have dozens of different uses. You can use them for that Project planning, seminars, agile methods, workshops and meetings use.

The notes can also be cut with scissors cut become what makes them an excellent tool for Drawing, crafting and decorating might.

You can like the static notes on different surfaces Metal, corkboard, brick, textile, leather, paper and stone attach.

Electrostatically self-adhesive whiteboard film from INNOX® - sticks magnetically to all surfaces.

Ideal for meetings, brainstorming, coaching and more. Just attach, go.

The foils can be reused - simply roll them up again after use. In addition, both sides of the film can be used. All without adhesive tape.

highlights

adheres to almost all surfaces
roll up and take away
writable on both sides
dry wipeable
20 slides per roll
Eigenschaften

Abmessung: x x
Gewicht:
Material:
Inhalt: 20 slides
Farbe:
View full details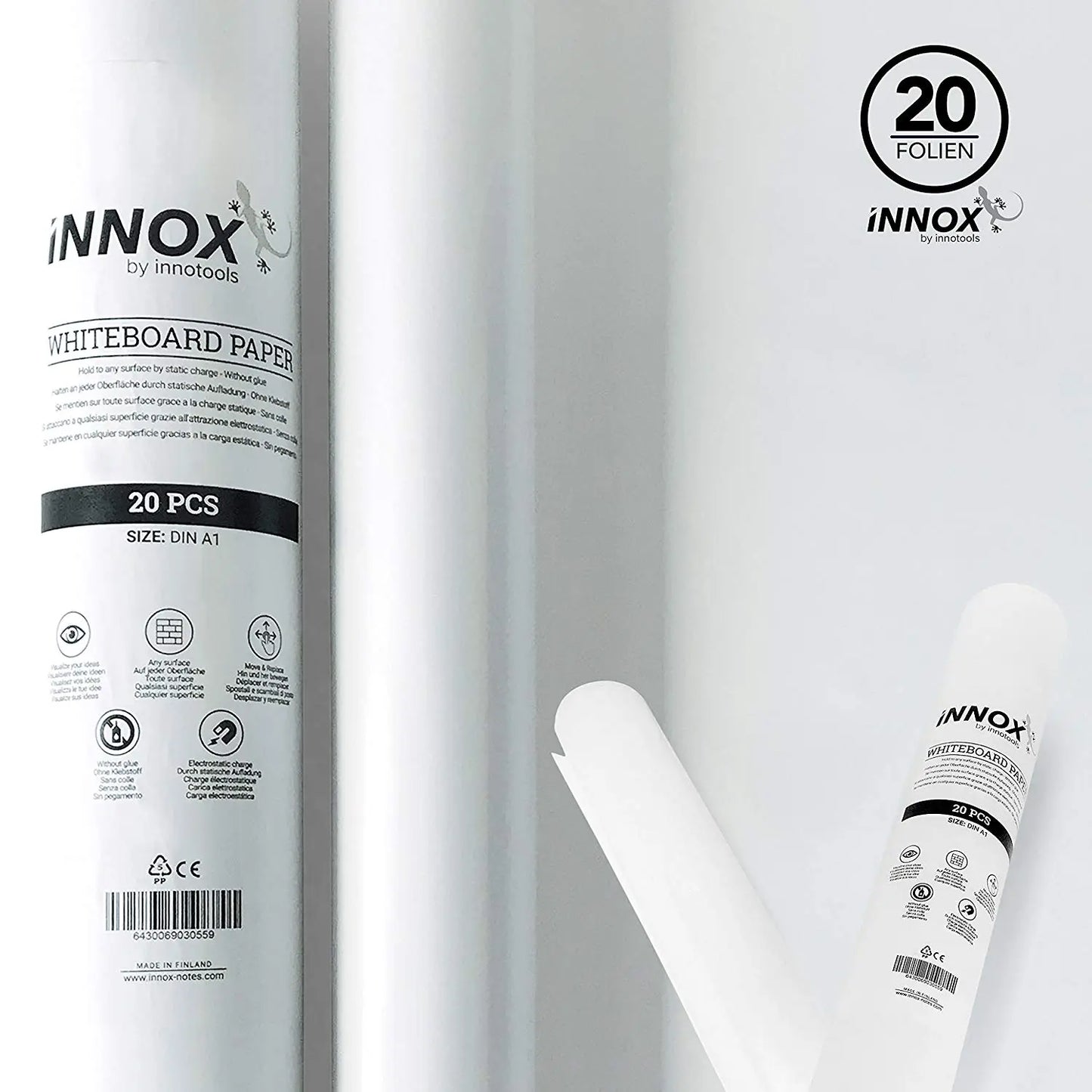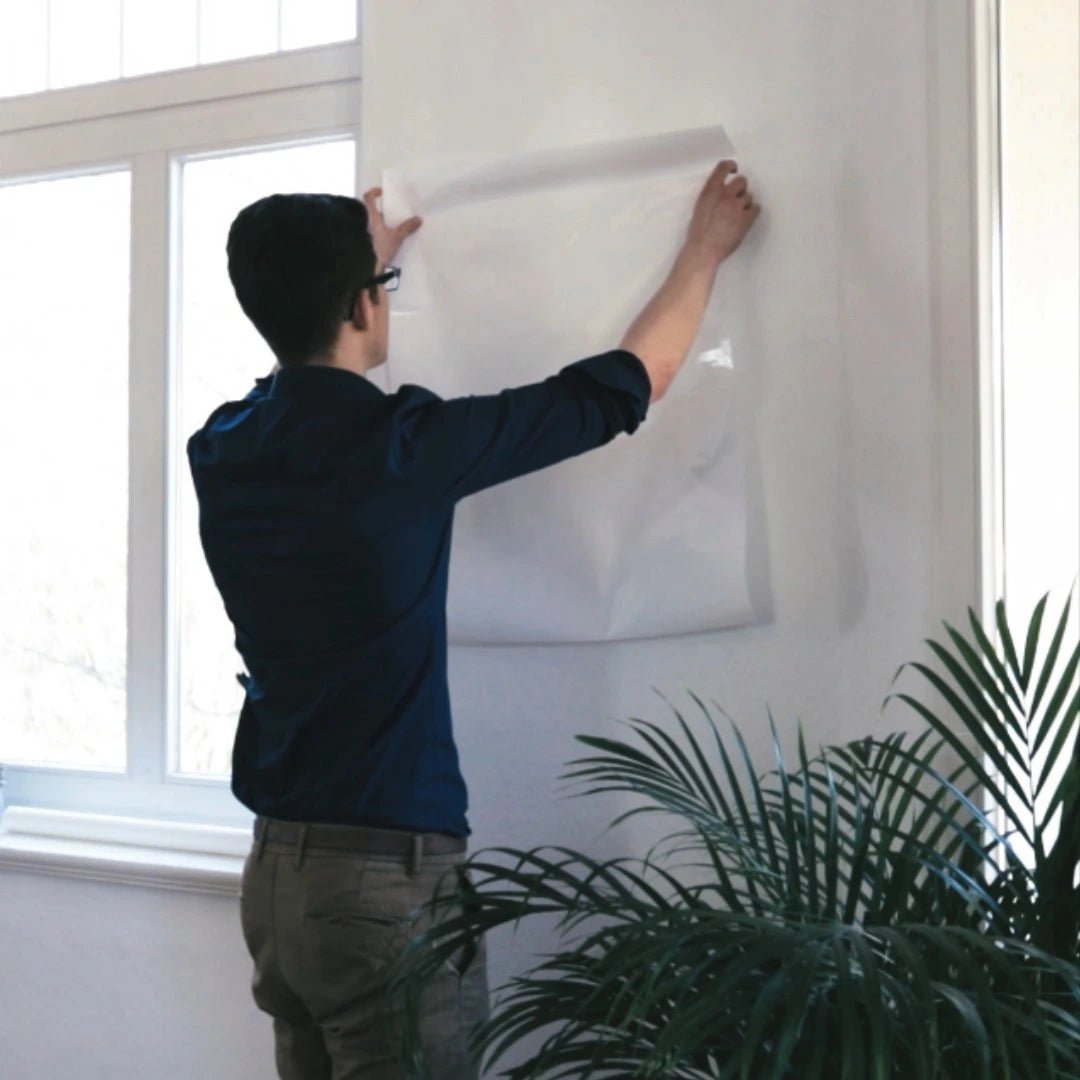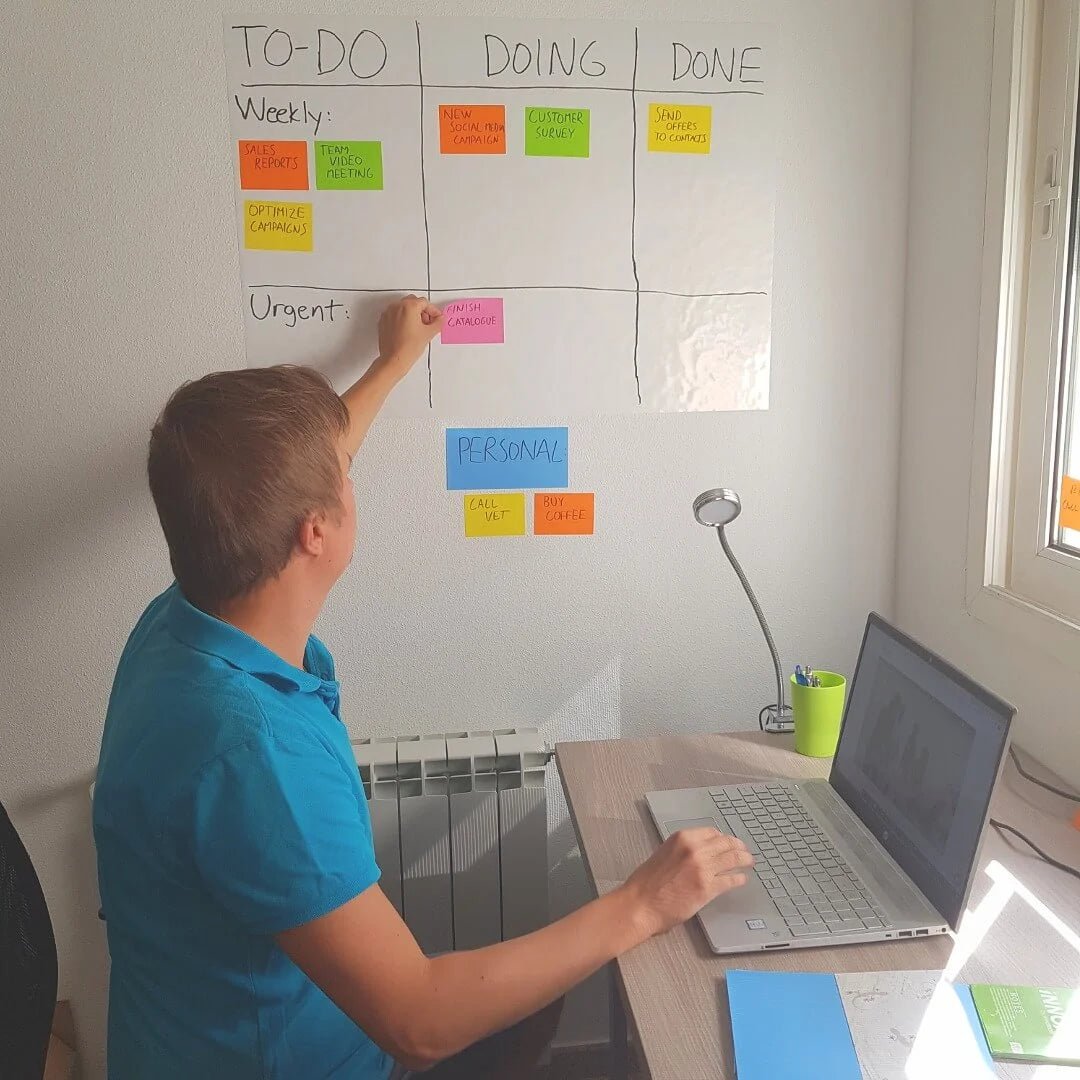 Visualize, move and structure ideas regardless of the surface
Electrostatic self-adhesive sticky note for almost any flat surface without glue. Whether it's a whiteboard, presentation board, desk, laptop, wood, wall or window - leave a note anywhere, quickly and easily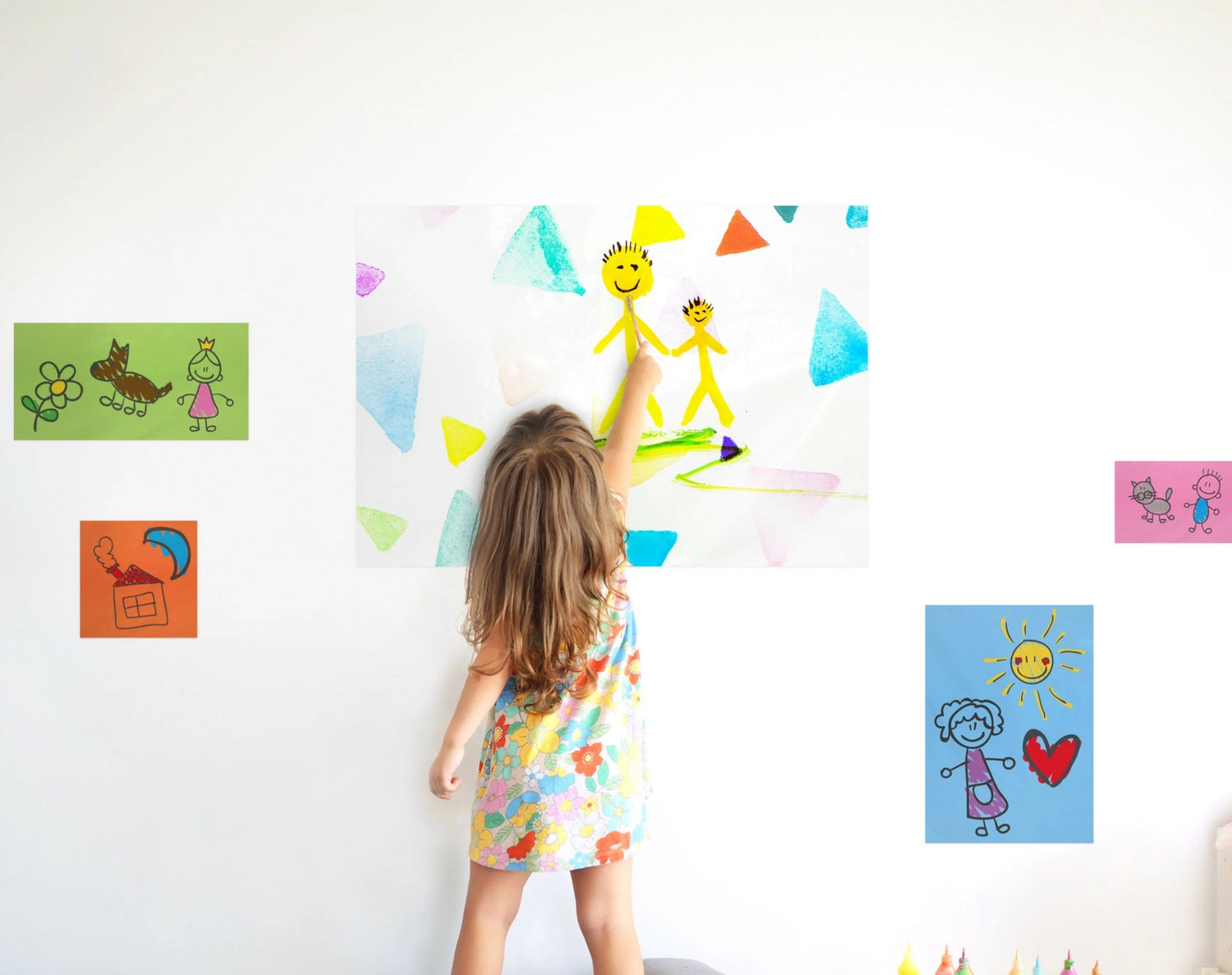 The alternative to the classic notepad
lack of space? Just turn it over and continue writing on the back. Also stick on both sides. The back of the notes and the whiteboard film can be wiped off and reused.
Organized home office
Ideal for use in the home office, rented rooms and seminar rooms. No assembly required, just unpack, attach and get started.
Practical helpers for your presentations
Turn any surface into a whiteboard with these practical, self-adhesive foils for your presentations & workshops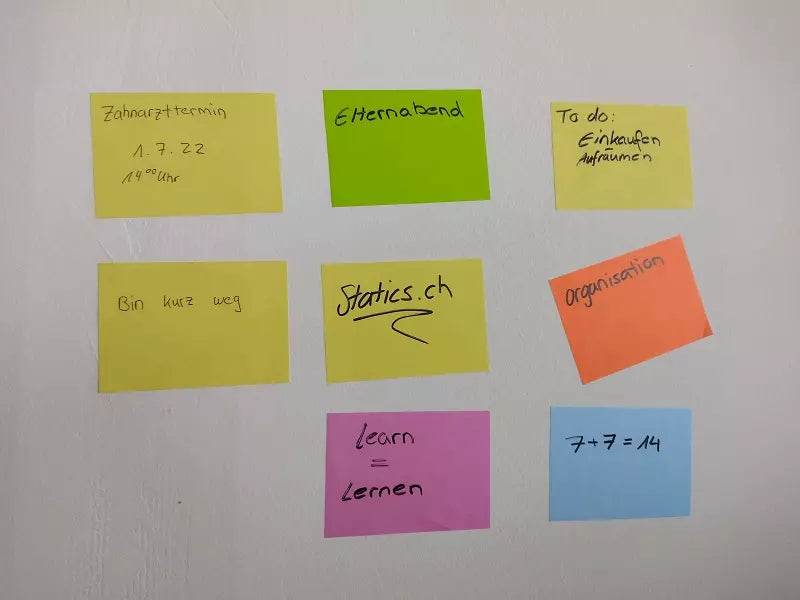 Easy to attach and can be used again at any time
Easy to apply and reusable, these whiteboard sheets are a great option for schools, offices and home users.
Fragen? hier einige Antworten..
What are Static Notes?

Static Notes are the new generation of sticky notes or Sticky Notes 2.0. They stick to almost any flat surface with static electricity on both sides, making them more practical, versatile and durable compared to traditional sticky notes. They can be written on with pencils, pens and markers and the back is dry erase - with Statics you can transform any room into a creative space.
What are whiteboard foils?

Static whiteboards are an excellent tool for working remotely or in the office. The static whiteboards do not contain any adhesives, but instead stick to surfaces with an electrical charge. They stick to almost any surface such as metal, glass, cork, brick, fabric, leather and stone. They can be moved freely and do not soil surfaces. The standard size for whiteboards is DIN A1 (841×594 mm).
On which surfaces do the static notes and whiteboard foils stick?

The self-adhesive notes are ideal for almost all smooth surfaces such as:
metal | carton | brick | wood | glass | cork | Textiles | leather | paper | stone | concrete
How do the Static Notes work?

Static Notes consist of statically charged polypropylene foil with a special coating on the surface. Instead of using glue, the notes stick to surfaces with a stable electrostatic charge.
How long do the notes stick?

We've run tests on a variety of surfaces and some sticky notes have lasted for months. However, the duration depends on many factors, e.g. B. on the nature of the surface, the external environment and the dust content. The products adhere best to dry, flat and dust-free surfaces.
Does something need to be assembled or attached?

Statics Notes & Whiteboards stick to static-charged surfaces, so they don't contain glue. This means the whiteboards are quick and easy to install and will stick to almost any surface. Simply place the plaque on any surface in your home or office and it will stick by itself.
Can Statics be reused?

Static whiteboards have a unique dry erase surface. This means you can write multiple times on the same board with a dry-erase marker. We recommend using a non-permanent whiteboard marker or a water-soluble marker. The same also applies to the back of the sticky notes. Whiteboards can be attached on both sides and can also be reused from both sides.
Can static notes and whiteboard foils be combined?

Colored Static Notes can be used to visually enhance the whiteboard. The Static Whiteboard can also be attached to rougher surfaces, which means that the Static Notes will stick better to these rough surfaces as well.
Are the electrostatic self-adhesive items environmentally friendly?

Yes, the Sticky Notes and A1 whiteboard films are environmentally friendly and can be recycled.
Are the sticky notes & whiteboard films easy to remove?

Yes, the whiteboard films and notes can be easily removed without leaving any residue.
Can I also attach the whiteboard films to uneven surfaces?

No, the whiteboard films only stick to smooth, even surfaces.
Sehr leicht zu reinigen
Mit richten Markern (trocken abwischbar) kann einfach drber gewischt werden und ist alles wieder leer
Praktisches Format
Die Grsse im A1 Format ist einfach Top - nicht zu gross weder zu klein
Nicht wegzudenken
Die Folien kleben seht gut an Wanden und Tren unabhngig vom Profil des Wand habe die Folie jetzt seit einige Wochen auf der Wand und klebt noch gut.
Halten ewig
Super Haftung auf Fenster und Schranktren. Leicht anzubringen und wieder zu entfernen